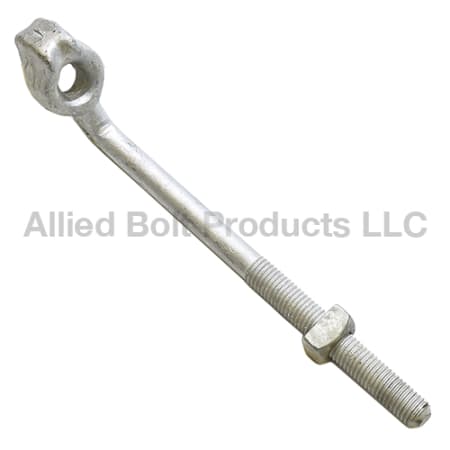 Min Qty:1
  |  
Qty Increment:1
Min Qty:1
  |  
Qty Increment:1
Features
Used for dead-ending and attaching guy wires to poles and crossarms.
Manufacture's marking (ABI) appears on unthreaded section of each bolt and is registered with the U.S. Patent Office per the Fastener Insignia Act.
Allied Bolt marking (ABI) appears on each bolt.
Supplied with cone point to ease assembly with nut.
Supplied with an attached square nut.
Hot dip galvanized to meet ASTM Specifications F2329.
Minimum thread length is 6". 
Recommended torque value: 314 ft lb. 
Minimum Tensile Strength: 36,350 lbf.